Spesso tra uno stilista e una diva del mondo del cinema nasce un sodalizio che lega entrambi in modo indissolubile, e questo tipo di rapporto alimenta vicendevolmente i due in fatto di marketing dell'immagine.
Nel lontano 1953 il giovane e straordinario creatore di moda Hubert de Givenchy attendeva con ansia la famosa star Katherine Hepburn all'interno del proprio atelier aperto solo due anni prima, ma si rese conto di aver frainteso quando al proprio cospetto si presentò la meno nota Audrey, dall'omonimo cognome.
La magia tra i due tuttavia fu immediata, la bellissima diva l'anno seguente scelse i costumi creati dallo stilista per indossarli durante le riprese del film "Sabrina", e nel 1957 Hubert creò il celebre profumo "L'Interdit" dedicandolo alla giovane belga, che scherzosamente gli rispose:  «mais, je vous l'interdis»!
L'attrice lavorò come testimonial per il profumo e "L'Interdit" divenne un successo in tutto il mondo.
La storica e vendutissima essenza appartiene al mondo dei grandi fioriti – aldeidati, e ben si sposa con il concetto di glamour e raffinatezza proprio della casa di moda Givenchy. Lo stilista a proposito del ruolo delle fragranze come accessorio per chi le indossa affermò: «Il profumo è il tocco finale dell'eleganza, la sua carta di identità».
E mi pare che questa riflessione sia stata convalidata dai costumi realizzati da Hubert per la grande diva nel corso degli anni a venire, i quali hanno contribuito a rendere Audrè – così come lui la chiamava –  un'icona nella storia del cinema e della moda.
Luciano Lapadula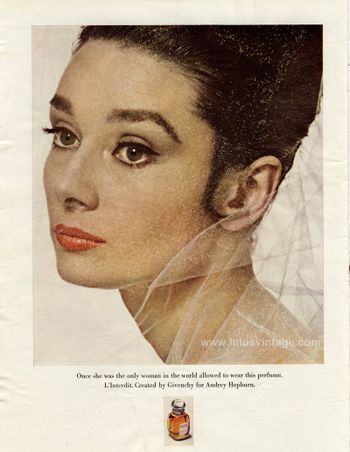 Inizialmente venduto nella sola Maison Givenchy il profumo divenne un successo e fu distribuito in tutto il mondo
Often between a stylist and a movie star borns a partnership that binds them both so indissoluble, and this kind of relationship helps each other in terms of image marketing. In 1953 the young and extraordinary fashion designer Hubert de Givenchy was waiting anxiously for the famous Katherine Hepburn star in its own atelier opened just two years before, but he realized that he had misunderstood when arrives the least known Audrey, with the homonymous name.
The magic of that meeting however was immediate, the beautiful diva the following year chose the costumes created by the fashion designer to wear them during the filming of the movie "Sabrina", and in 1957 Hubert created the famous perfume "L'Interdit" dedicating it to the young Belgian who jokingly replied, "oh…je vous the Interdis'!
The actress worked as a testimonial for the perfume and "L'Interdit" became a hit all over the world.
The historic and best-selling essence belongs to the world of the great flowering – aldehyde, and goes well with the concept of glamour and sophistication own fashion house Givenchy. The designer, about the role of fragrance as an accessory to the wearer said, "The smell is the final touch of elegance, his identity card."
It seems to me that this reflection has been validated by the costumes created by Hubert for the great diva over the years to come, which helped make Audrè – as he called her – an icon in the history of movies and fashion.
Luciano Lapadula
© COPYRIGHT: Do Not Copy. Contact the writer for info